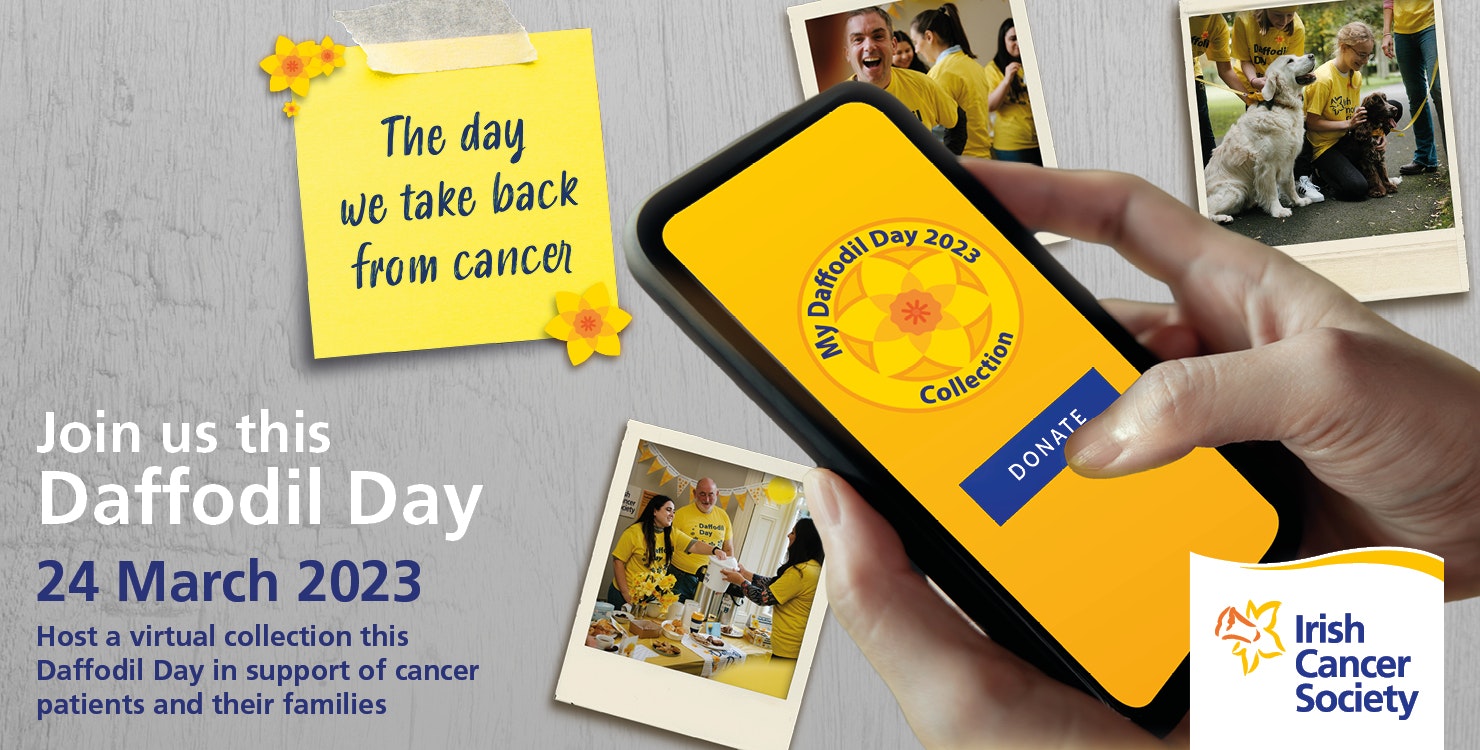 Frequently Asked Questions
How does the money I raise support cancer patients? 
Cancer takes from us every day. It takes big days, little days, and everything in-between. It replaces them with treatment days and recovery days. But this Daffodil Day we have the power to take these days back from cancer, to give hope and raise vital funds so that one day cancer can take no more.
Now more than ever, cancer patients need our support. Funds raised during Daffodil Day are used to help the estimated 44,000 people who receive a cancer diagnosis in Ireland each year. Your generous donations fund ground-breaking cancer research and provide free support services and care to people affected by cancer, throughout Ireland. All because of one day.
Please take part today to ensure we can continue to be there for cancer patients and their families, when they need it most.
"Having someone to talk to and share with is a huge weight off your shoulders, there is always someone there to listen - you will never be fully alone. It's so good to know those free resources are available when you need them." – Counselling service user.
How do virtual collections work?
Virtual collections are a simple way for you to raise money this Daffodil Day.  With a virtual collection to add to your Daffodil Day fundraiser you can now take donations from friends, family and your community online safely and easily. Simply set up the page, share the link, and people can donate directly to your online page where you will see every euro you have raised in support of cancer patients and their families.
How do I promote my virtual collection?
As your virtual collection happens entirely online, it's easy to promote it via your social media channels or via email or WhatsApp. You should post about your virtual collection as soon as you set it up and then post regular updates about how much you've raised so far and what your target is. Check out our social media tools to help give your virtual collection a bit of a boost.
How do I set-up my virtual collection?
It's easy. Simply click the 'sign up now' button below to set up your page and start collecting in support of cancer patients and their families!
How do I lodge funds raised on my virtual collection page?
Funds given through your virtual collection page are forwarded to the Irish Cancer Society automatically, so you don't have to worry about any lodging or banking. It is all done for you.
How do I get help with my fundraising page?
If you need help using your fundraising page, making a donation, or anything else JustGiving related, their dedicated support team can help you out.
You can message JustGiving through their contact form or you can contact via email help@justgiving.com
How do I set-up/join a team?
If you're in charge of setting up the team:
Once you have registered and logged in, go to edit your page.
Go to 'Team' then click 'create a team'
Choose your team name and you're done!
If you're looking to join an existing team:
1. Once you have registered and logged in, go to edit your page.
2. Go to 'Team' then click join a team. Simply search the name of the team you want to join, then click join! Simple.

Need further help? Email help@justgiving.com